First and Foremost – Thank You!
We recently received some more pet bed donations and wanted to thank everyone who gave. For those who haven't heard about the program, Animal Rescue Aid is in a partnership with a manufacturer of dog beds, who allows them to purchase their beds at cost for needy rescues and shelters. They are $17.50 and have a rust-proof aluminum frame and polyester topper, which can be hosed down with disinfectant. If you own dogs or have ever worked with rescue, you know how important that is. Most importantly, it gets them off the ground or the crate and gives them a comfy, dry place to lie.
We could still use a couple  more beds for winter, but what we really need now are some replacement toppers. As you know, Jacks are tough little guys and gals and can cause a lot of wear 'n tear on anything. This includes these wonderful semi-indestructible beds. Fortunately, the aluminum frames are holding up great, so we just need to replace a few polyester toppers … and, fortunately, they are only $3.95 each. But, of course, multply that small amount times several dogs and, well? Vet bills and food must come first.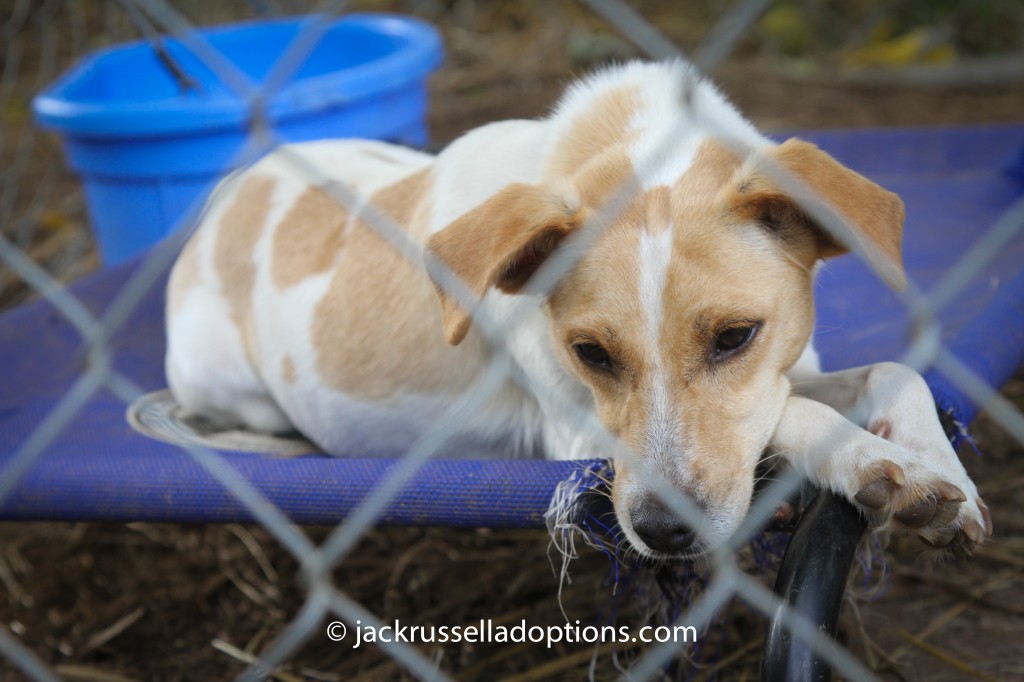 Photo: Tasha is one of several of our dogs who lies on her bed a lot. As you can see, the corners of the bed are starting to fray because of it.
Donate Online
To donate a bed or a topper, simply go to ARA's donations page and scroll to the end of the page. Fill in the amount you would like to donate and put Georgia Jack Russell Adoptions in the Comments field. The last part is very important, so they know who to ship it to. If you are buying replacement toppers, please multiple $3.95 by how ever many you want to donate and note that in the Comments box as well. Then click the Donate button, which will securely take you to the Paypal website, where you can pay with your Paypal account or with a credit card. Walk through the process like any purchase and woof! You have made a major difference in a little dog's life.
Donate by Check
If you are not comfortable making a donation online, you can contact us and we will email you a form to print and mail with a check.
Thank You, Thank You
Thanks to everyone who helped out the first time. If you have been wanting to help the dogs, but don't feel comfortable just giving money, this is a way to know it's going to the right place. We will continue to share photos of the dogs enjoying their beds (and toppers), so you can see exactly where your hard-earned money is being used.