By Jennifer Roose
S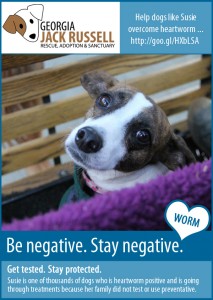 usie came into our lives when she needed to be weaned from her puppies. Her tale was filled with horrors. She had been shot with a shotgun, dumped, and had five little babies at her side. My mother fell in love with her at an adoption event and decided that I needed to foster her if the opportunity came up. One summer day in late June, I got a phone call from Momma Donna telling me to come get her. Long story short, I took her for a carriage ride with the horse, and it was over. She sat on the seat like a pro. She was staying with the Roose pack.
Susie's first comprehensive exam showed she had liver issues, a heart murmur, and severe dental disease. We are not strangers to dogs with medical issues. We had adopted Pumpkin a year earlier and owned a special needs Jack before. After some intense antibiotics and a dental, her liver recovered. During her dental two of the six visible buckshot pellets were removed from her hip. Susie bounced back like a champ.
Feeling we were well out of the woods, we took Susie for her yearly in March. The vet called to let me know that Susie was positive for heartworm. A second test was done, and it was positive for the antigen again. The vet explained that although the Rescue had her on preventative from the second she left Morgan County Animal Control, Susie had might have already been infected. The antigen level was too low to be detected or it was a male worm only. It was no one's fault, except her owner that never bothered with one simple treatment per month.
Susie was in for a rough ride. For a year, she enjoyed daily five mile runs and hikes or trips to the barn. She was very fit and active. An antibiotic was prescribed to kill the bacteria that are symbiotic to the heartworm. Once that is dead, you do not need as much medication to kill the worm. Thirty days later, the vet gave Susie her first injection of Immiticide in her back. Although going the slower route would be easier on her system, Susie was deemed too fit and active to keep quiet for that long of a period. She also did not show any heart damage from the infestation. Her worm burden was very low. She handled this injection well with plenty of pain killers and anti-inflammatory medication. Susie was sitting by the door begging to go for a walk the next day. I felt bad when I could not take her on a daily run with her brother and sister.
The last two treatments had not gone as well. They were given less than 24 hours apart. There is one shot on each side of her spine. She came home and did not want to be bothered. I sat with hot packs on her back until her pain medications made her more comfortable. In the past few days, she has bounced back again, but she is not allowed to do anything. This is so she does not dislodge a worm into a lung. This has not been easy for the hyper active Susie.
In November, we will know for sure when Susie can become my running partner again. She can go to the barn and ride in the carriage. This could have been prevented with one cheap pill a month. Susie had to pay for someone else's laziness. Susie was lucky. She landed at a rescue with a strong heartworm prevention program and in two foster homes that were comfortable with high risk dogs.
We do not regret for a moment taking Susie on. She is a joy and blessing. Susie has gone to schools to perform and education High School children on rescue dogs and their potential. Special needs dogs are not always a 'burden' on their owners. Our hearts broke when we got the phone call with the positive test, but Susie was a four legged fur baby. We love her quirky personality and unconditional love she gives us all.
How to Help
Help us spread the word about the plight of our dogs and many more. Please, feel free to share the stories in this series with others.
If you would like to help more, please feel free to donate towards our heartworm treatment fund. Just click the Donate button below and enter an amount of your choice. Please, know that every penny counts.