Dixie and Scruffy's story is a lesson in not only giving your dog(s) monthly heartworm preventative but in making sure they are tested regularly. Tests can be negative when worms first appear. This is why your vet insists that tests must be done yearly before doses are prescribed. The earlier it is caught, the better chance they stand to overcome them completely.
By Janeen Langley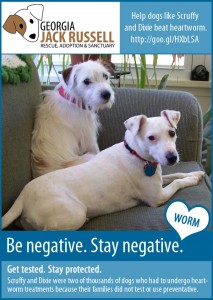 Shortly after adopting these two wonderful dogs from Donna in 2006, we learned they were both positive for heartworms. Although they had tested negative during their stay at the rescue and even though we never missed a dose of their preventative, they still came down with them. It is possible that the original test was done when the heartworms had just started and were not bad enough yet to cause a positive test. Whatever the reason, and without blaming anyone or anything, we began treatment with our vet. We loved these two and wanted to save their lives.
The hard part was keeping them relatively quiet. Our vet is excellent and advised us we could take them for their usual daily walks in the neighborhood, but said they should not extend longer than 10 minutes. They were not to run or get excited, which could increase their heart rates. This was not an easy task with two energetic Jack Russells who were used to being active.
After a series of treatments and an extended period of being somewhat quiet, we were given the okay by our vet to turn them loose to do whatever they wanted- run, jump, chase squirrels and take long walks. It was a great day and one we will never forget.
How to Help
Help us spread the word about the plight of our dogs and many more. Please, feel free to share the stories in this series with others.
If you would like to help more, please feel free to donate towards our heartworm treatment fund. Just click the Donate button below and enter an amount of your choice. Please, know that every penny counts.