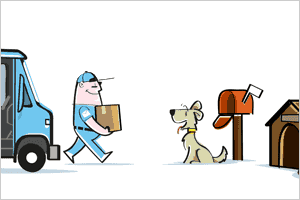 After several suggestions from some great friends of ours, we have joined the BarkBox program to see how things go. So, what, exactly, is this?
When you sign up for BarkBox, every month you will receive a box in the mail with four or more carefully selected products and presents for your dog – anything from toys, bones and all-natural treats to hygiene products and innovative new gadgets!
We have not personally seen one of these boxes, but have heard good reviews. The best part about the program is that they donate at least 10% of their profits to shelters, rescues and animal welfare organization like us. To make sure we receive the 10%, be sure to use this code when ordering: GJRRBBX1.
April Specials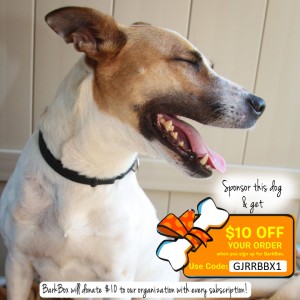 This month, they're offering a really cool special to customers and rescues. They are donating the usual $10 they donate to rescues for every unique $10 coupon redeemed by our Jack-lovin' community. In addition, they are giving you, the customer, $10 off your order and us, the rescue, 5 free BarkBoxes with every 10 coupons redeemed!  This not only provides goodies to our rescues that we can't always afford, it also gives us something nice to auction at fundraisers or to thank some of our very special sponsors for all your support.
Every day this month on our Facebook page, we'll be featuring a special dog at rescue (see the photo at right) who you can "sponsor" through your purchase of a BarkBox. If you haven't Liked us, please be sure to do so and keep your eyes peeled for this daily deal.
As always, thank you beyond words for your ongoing support. We couldn't do any of this without you.