November is Adopt a Senior Month. Our sanctuary realizes and respects the wisdom and beauty of all seniors, not just our four-legged babies but our two-legged friends and family as well.
It is a sad reality that senior dogs can be difficult to adopt out. Even though Jacks typically live 14-16 years (and some many more), most adoptive parents are looking for young dogs they can train and with whom they will have a long time. We understand that and we have several young guns available for adoption. Being a sanctuary, however, we also have a wonderful group of senior sweethearts who need and deserve homes just as much, if not more, than the babies do. A lot of these dogs are trained, calm-submissive, low-maintenance and would love nothing more than a lap to sit on every day.
We also know of many two-legged humans who are retired and would love nothing more than to have a dog, but may be living on a fixed income. While they long for the companionship, friendship and health these beautiful creatures can bring to any stage of our lives, the financial burden of food, vet bills and costs may be more than they can handle.
We hope to resolve both of these issues with this new program.
About the Program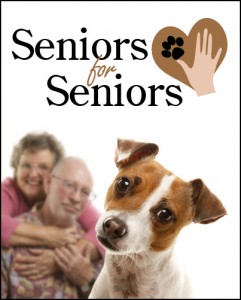 Anyone who is over 65 years old is potentially eligible to adopt one of our senior dogs (typically 7 years or older) at a discounted rate. We will also assist with food costs. In addition, we would like to find some local vets to work with us on offering medical discounts.
If you are over 65 and are interested in participating, please visit our Senior Dogs page or our Adult Dogs page (look for any dog 7 and older) to see which dog speaks to you; then give us a call at 770-918-8582 for more details and arrangements. As with every adoption, we will need a completed application and potential home inspection.
Vet? Sponsor? We need you!
If you are not 65 and/or looking to adopt, you can still participate in the program. As you know, we rely solely on donations and adoption fees to run our rescue. We do not receive any type of funding whatsoever. Although we do work with local vets and food banks to help provide services and food at discounted prices for this Seniors for Seniors program, we will still have costs associated with it.
If you would like to help us help them, you can do so by making a contribution to the program or donating food, toys, crates, blankets, etc. Just cilck the Donate button below.