Meet the Gang
Team Russell is a group of dedicated volunteers who do everything from scooping poop to finding dogs new homes. When Jimmy Durham, co-founder of the rescue, passed in 2008, Mama Donna found herself in dire need of help. Jimmy had always been home to take care of the dogs while she worked. A few friends, family and "adopted parents" stepped in to hold down the fort for several years. Many are still with us. For them, we will always be grateful.
We launched our new website and social media channels in 2011. Since then, our numbers have grown significantly. Below are just a few of the movers and shakers who keep things going at the rescue. We're still waiting on plenty more bios from this amazing team, who works together seamlessly to help save, rehab and re-home these beautiful dogs.
Wanna play?
We still need volunteers on any given day. If you'd like to join the Team, we've love to have you.
Our next volunteer day is Saturday, July 23. It's a great day to come out, meet the team and the dogs, and learn the in's and out's of rescue.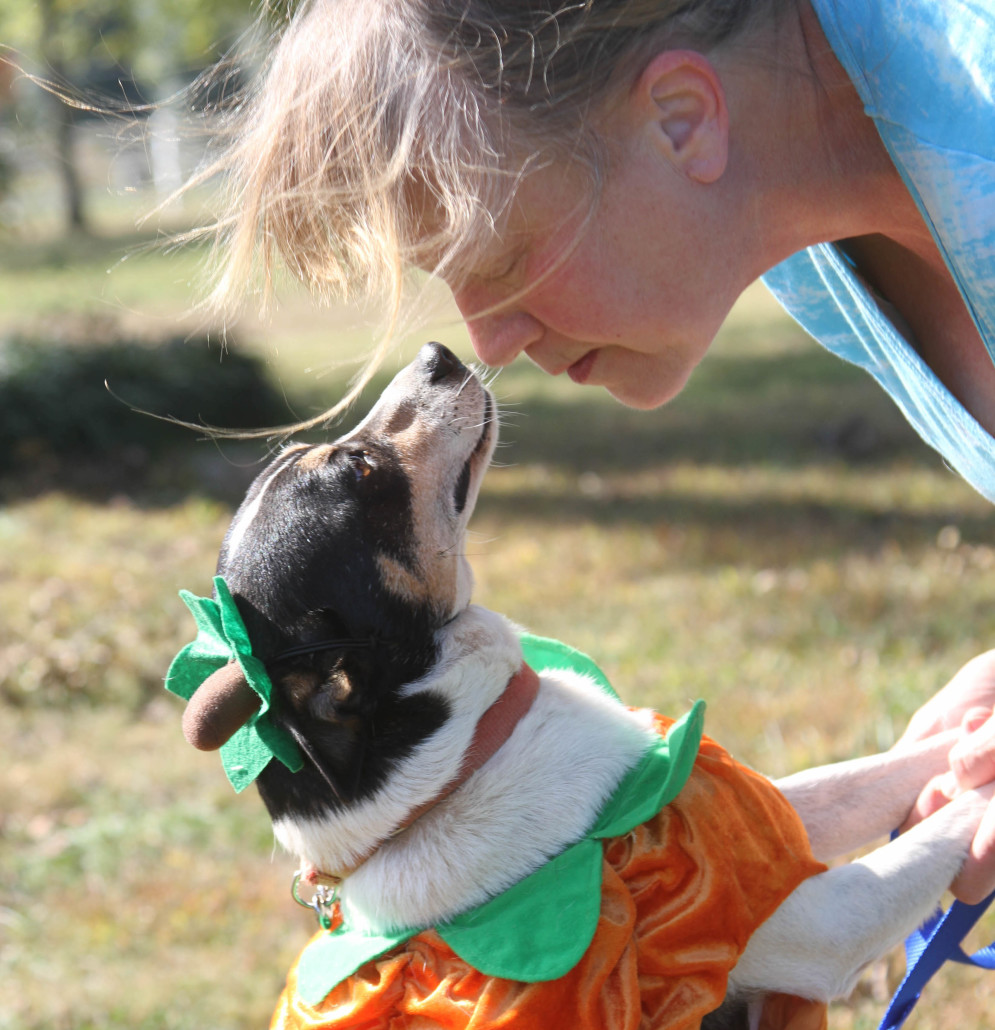 Donna Durham
Current roles: Owner/co-founder/mom to many
Bio to come when we chase her down. She's always too busy with dogs for this website fun.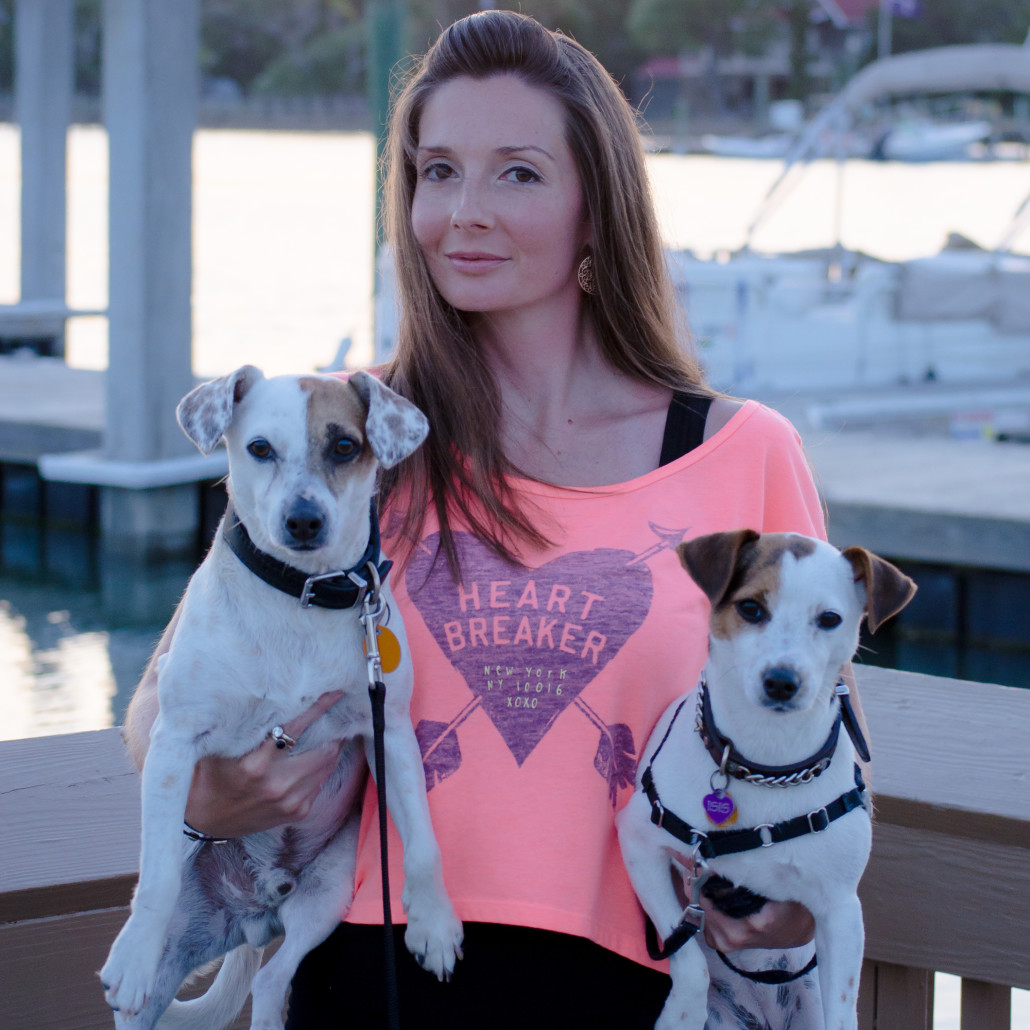 Elisa Schwutke
Joined: Summer 2013
Current roles: Instagram/Pinterest chick, photographer, since foster failure only medical foster, temperament testing/evaluating and, of course, playing with the dogs and giving them exercise and cuddles.
Mom to: Chad (GA JRT rescue) and Isis Maria S.

Favorite thing about being a Team Russell vol: Spending time with these wonderful little white dogs who never fail to amuse and entertain me. Absolutely love their intelligence, determination, and funny nature. 
Rescue(s) you will never forget: The love of my life (besides my husband of course!), Chad, who won my heart the minute I looked into his sad and scared eyes. We worked hard to get him to the point where he can live without fear, and he thanks us every day with his joy of life. 
Zeus, Eddie and Flash, whose freedom rides I was part of. Casper, Mr. Wiggles, Pebbles and all other dogs who we fostered for a short or long period of time. As well as Jax and Sparky the Firedog, whom we would have considered to adopt if the circumstances were different at that time. Not to forget Nicki, Rocket, Ernie, Rusty, and many other pups we met these past three years.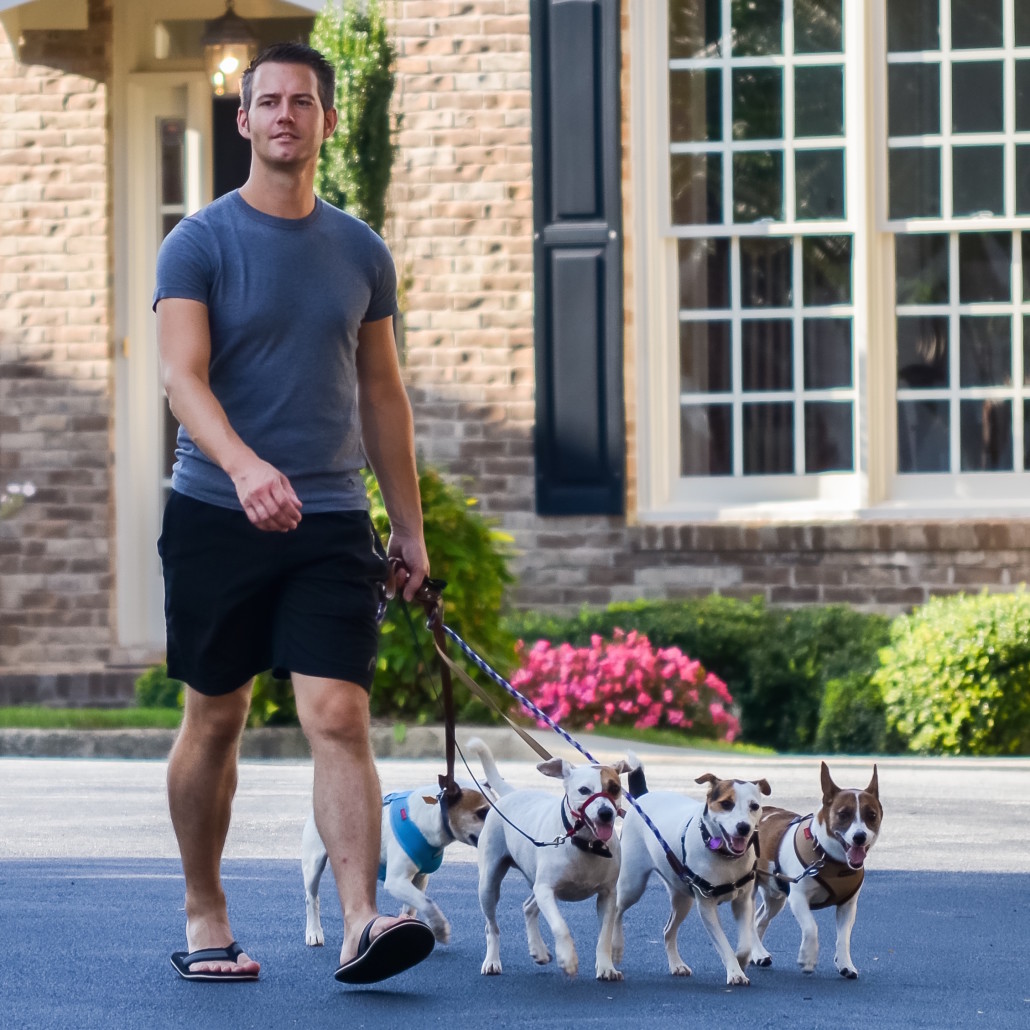 Kevin Schwutke
Joined: Summer 2013
Current roles: Temperament testing, training and speed dating of the "hard cases" – you know, the ones with a lil' too much attitude. 😉  For the "normal cases," everything from exercise to socializing, playtime and bathtime. Other than that, being the assistant to the wonderful photographer Elisa, who also happens to be my wife.
Dad to: Sir Chadwicke (GA JRT rescue) and Princess Isis Maria S.

Favorite thing about being a Team Russell vol: Exercising and playing with the high energy, power-packed Jacks. Then, ideally finding them a Jack-savvy adopter who loves their intelligence and intensity and gives them the Terrier life they deserve.
Rescue(s) you will never forget: Rocket, Nicki, Flash – they didn't like everyone. Brewster, Duffy, Jax – the powerful and funny guys. Our fosters Casper, Hannah, Mr. Wiggles,… and many more until Chadkowski made us foster failures. 🙂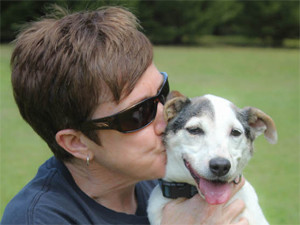 Kim Davis
Joined: December 2011
Current Role:  Anything that needs to be done…coordinating fundraising events, playing with the dogs at the ranch, mowing the grounds at the ranch, acknowledgement letters to donors, poop scooping, dog baths, transport, and anything else that might pop up.
Mom to: Eddie (Cashiers-Highlands Humane Society), Jackpot (PAWS Bryson City) and Maxie, the failed foster dog (GA JRT).
Favorite thing about being on the team:  Helping make a difference in the lives of our dogs and the families that choose to adopt them. This is truly a 2-way street of joy!  It is gratifying seeing the dogs react so positively to the love and attention that we give them at the ranch.  And seeing them leave for their forever homes with people that actively sought out a rescue dog makes my heart full.  Sometimes it's hard to know who is happier – the dog, the adoptive family or me!
Rescues you never forget: Tough question because they all have a place in your heart forever. But, Mars was special because he was the first dog I ever transported to his forever home (and cried my eyes out all the way back because he had waited soooo long for that ride).  
Rocky overcame some terrible circumstances and resulting health problems and now has the most incredible family that loves him dearly. He has blossomed into a happy, happy boy because of that love.
Hannah was the most fearful dog I had ever observed and I was afraid that she could not be helped. But, through loving, patient foster families she learned to trust and now lives the life of a princess with her amazing Mom.
Arena waited literally for years for her forever family to find her. I broke down completely when her adoptive family announced "we'd like to take her home."  The first photo from her new home was a walk on the beach and it is one of my favorite pictures ever.
Rocket and Nikki were fearful dogs that I thought would be sanctuary residents, but there were special angels out there who would love and understand them.  They are treated like the special guys that they are.
See?!?  I told you that was a tough question!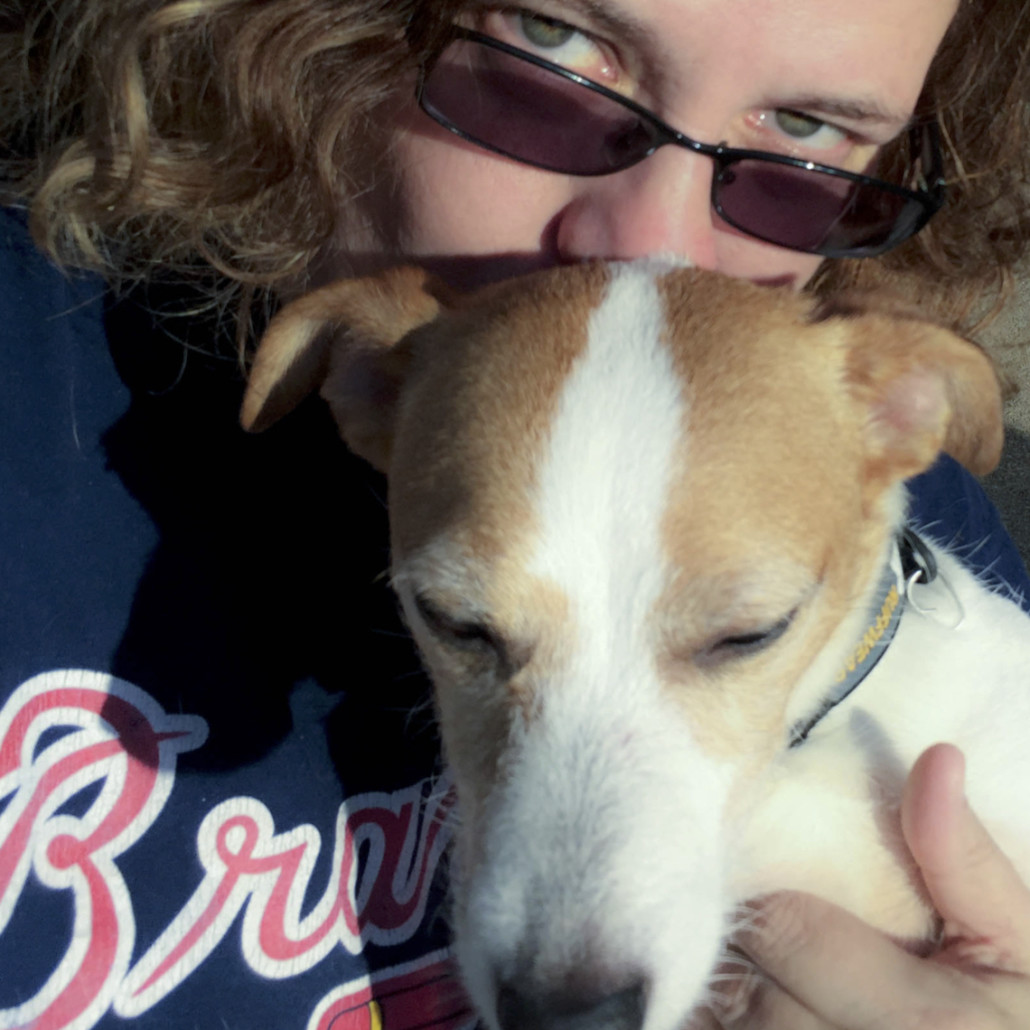 Jeana Nolen
Joined: April 2011
Current roles: Facebook chick, web/graphic design, marketing, online fundraising, photography, and, of course, scooping poop when we need help on the weekends.
Mom to: The Jack Pack of GA — Fancy, Cooper and Brodie (all GA JRT rescues), Brigit, and Benny (rescue from the Humane Society of Putnam County)

Favorite thing about being a Team Russell vol: Being part of a group who truly cares about these dogs, from the minute we see their shelter/surrender photo, to years after they have been adopted. Everyone brings something unique and special to the table for the greater good of the dogs. I also know where every dollar I work around-the-clock to raise goes. Mama Donna loves each and every one of these dogs as if they were her own … and sometimes they become her own. 🙂
Rescue(s) you will never forget: My own, I guess, since they won't let me forget them. There are so many, especially the ones who were here when I first arrived and, inevitably, passed in our sanctuary program – Slick, Eli and Dirty Harry. Eleanor is one of the last and she makes me smile the minute I see her. Pumpkin will always hold a special place in my heart. I didn't think she would survive the night; now she's a rock star. I tend to fall in love with every girl named Sugar or any dog who plays ball! Rocket, Nicki, Ernie, Boo, Maggie, Maggie Mae (whom my mom adopted), Hunter, Ellie … really? Did you have to ask this question?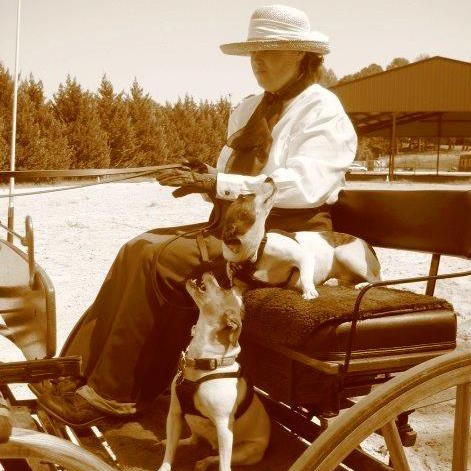 Jennifer Roose
Joined: August 2011
Current Roles: Agility Trainer/Instructor and Giver of many Freedom Rides from shelters on an emergency basis. Record holder for the 'Most Foster Failures' by a volunteer in history.
Mom to: Pumpkin, Susie, Chuckie, and Penelope (All Foster Failures from GA JRT rescue)
Favorite Thing About Being a Team Russell Volunteer: Being part of a group who loves every dog. No matter their background or quirks. I love meeting people with such unique talents and seeing how they use them to make the world a better place for animals.
Rescues you will never forget: My four will always be closest to my heart. The freedom ride for JR will always be one of my most exciting. Driving to the middle of no where in Alabama with a few hours notice to pick up an injured dog.  I drove with the cruise control set at 90 the whole way, so he could get medical attention. I will always remember what a sweet little gentleman he was for the two days he stayed with us. The wildest freedom ride is the one where I drove to pick up Wrangler and Jake. The shelter was in the middle of nowhere on the Alabama border, and I only had a few minutes before they closed. It did not show up on my GPS and there wasn't a sign for it. I came for one dog and came back with two. I love those freedom rides. They were such good boys on the way home. I will miss my Harry. My funny, fluffy, scruffy boy.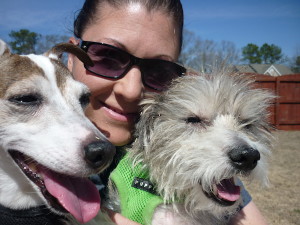 Donna Ioannidis
Joined: Fall 2013
Current Roles: I wear many hats and help with anything and everything, from holding and loving on dogs (yes, it makes a difference!), to introducing new volunteers to the in's and out's of rescue, to making tasty desserts for our volunteer days, adoptions events and fundraisers.
Mom to: Isabella and Ricky (both GA JRT rescues)
Favorite thing about being a Team Russell vol: It's amazing to watch these babies arrive, scared and confused, and then transform to confident and happy dogs. Even better is to then see them thrive in wonderful forever homes. I am also so proud to be a part of this team, who works so well together and gives so much to care for the dogs.
Rescues you will never forget: It was especially gratifying to see Rocky and Dixie find such amazing families. They were with us for so long and didn't get the attention of the younger pups, but they were so sweet and both just needed a chance.
I also have a special place in my heart for Landon since I broke him out of the shelter. He was so scared, he wouldn't even walk on his leash when we left and he shook the whole way to the ranch. Now he is living the life in Charleston, and I couldn't be happier!
Last but not least are my two crazies. Isabella was at the ranch for nine months before she came home with me as a foster. It didn't take long for us to decide that her forever home was with us. Now she is my little ladybug. Ricky was pulled from the shelter and immediately spent a month at the vet's office. He was so skinny and sick with patchy hair and scabby skin. He immediately won my heart with his big, soulful eyes. We introduced him to Isabella (with the help of Kevin and Elisa) and Isabella agreed that he should stay forever. We're all one big happy family now!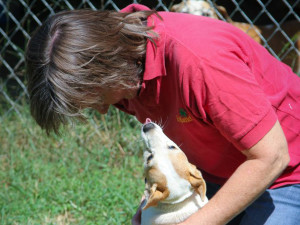 Dede Fauconnet
Joined: Summer 2012
Current Roles: Logistics Coordinator and Keeper of the Seniors, mostly staying in the background.
Mom to: Many, our own dogs and all of the fosters and seniors we assist, even if for a short time — including Floyd, Jerry Lee and Edgar.
Rescues you will never forget: All of them!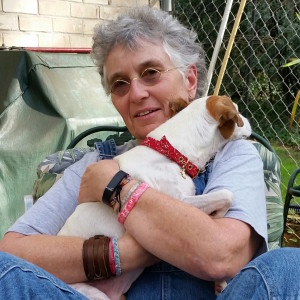 Bonnie Woolger
Joined: October 2014
Current roles: Foster mom, dog walker, Jill-of-all-trades doing whatever needs doing (from helping out around the ranch, to growing our Twitter account)
Mom to: Kennedy, Ernie, Dobby, Belle
Favorite thing about being Team Russell vol: Finding Kennedy, making a difference in the lives of special dogs
Rescue(s) you will never forget: Kennedy, of course; Hannah, Joey